I haven't really had time to address the hype around the Nike Air Mags because I've been busy covering Fashion Week. I will take the time to do so now because with a name like Mcfly, I absolutely have to talk about my all time dream sneaker. I waited my whole life for these sneakers to be released in the real world. I received news about the Nike event rather late so I did not get to attend their Mercer Street unveiling, I will try to go see the shoes up close sometime this week during my down time. From what I've seen so far I think the shoes look very impressive but they would be worth the high price tag if they actually had the automatic laces. Come on Nike, how can you sell sneakers for $30,000 and not have the funds to develop this technology which has already been done by amateurs on youtube. I do love that they finally created the Air Mag and that they are helping the Michael J. Fox foundation with the profits but what I don't love is the hype around the shoe, it makes it harder and less cool for all of us that waited since the 90s for this shoe to come to life. Check out a few photos & videos of the Air Mags below: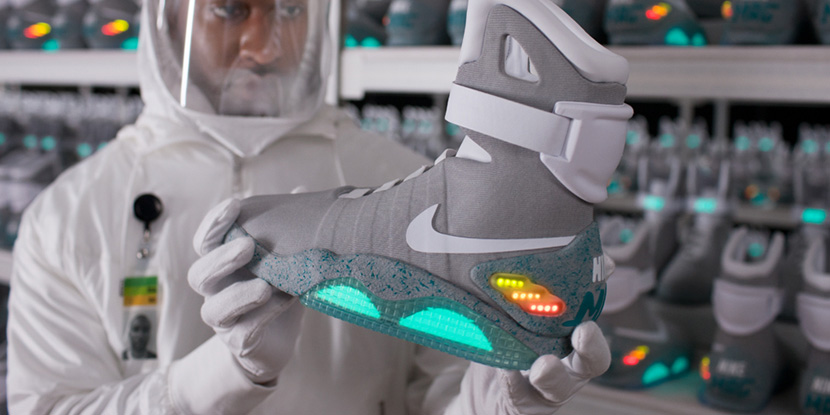 For 22 years they have existed only in the year 2015 on Marty McFly's feet.

Today they finally become a reality.

Famed Nike designer Tinker Hatfield and footwear innovator Tiffany Beers have returned to recreate the footwear legend. Based on an original movie prop used in Back to the Future Part II, the 2011 Nike MAG shoes have been rebuilt to the exact specifications of the originals.

It features an electroluminescent outsole, space-age materials and a rechargeable internal battery good for 3,000 hours. And while they are not recommended for playing sports, these highly limited shoes will very likely command attention wherever they are worn.

For 10 days, 150 pairs of 2011 Nike MAG shoes will be listed on eBay. The first of the auctions begins September 8 at 11:30 p.m. EDT. All net proceeds from the auction sales of the 2011 Nike MAG shoes will go directly to The Michael J. Fox Foundation for Parkinson's Research.

We need your help today to meet the $50-million Brin Wojcicki Challenge.

Sergey Brin, co-founder of Google, and his wife Anne Wojcicki, co-founder of personal genetics company 23andMe, are matching up to $50 million in funds raised by the Foundation between now and December 31, 2012. Net proceeds from the 2011 MAG auctions on eBay will be matched, so please bid generously.

Together we're going to help erase Parkinson's disease from the space-time continuum.